Firefighters Search for Possible Victims in Fast-Moving Apartment Fire
Firefighters Search for Possible Victims in Fast-Moving Apartment Fire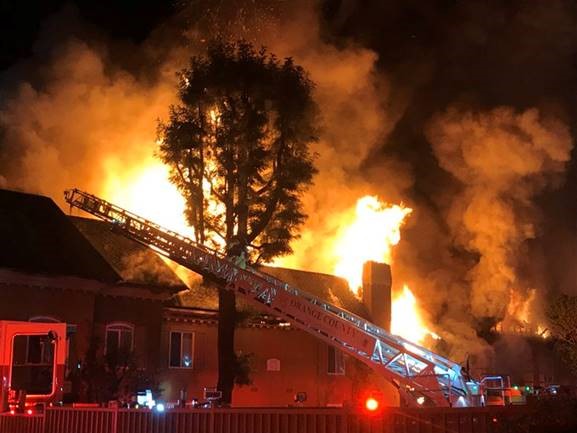 Two people were injured and several residents are unaccounted for in a fire that caused a roof collapse early Wednesday at a two-story apartment building in Tustin.
The fire, located on the 15000 block of Williams Street at Chatham Village, was reported around 3 a.m. Firefighters were battling the blaze on both floors, Tony Bommarito, of the Orange County Fire Authority, said.
"We do not have all occupants accounted for. This fire progressed very quickly," Bommarito said.
The roof collapsed within 30 minutes, firefighters said.
Police alerted some residents to the early morning fire as it quickly spread through the complex.
"The cops were banging on our door, saying, 'Get out, there's a fire,'" said 13-year-old Angelina Gonazalez. "I got my dogs, and I ran out."
Details about the injured victims were not immediately available.
Neighbor Bruce Calderon said he was trying to call a co-worker who lives in the building. By 5:30 a.m., he was still unable to contact him.
"He didn't pick up," Calderon said. "I'm still wondering about what happened to him."
At least 120 firefighters were on scene, the Orange County Fire Authority said in another tweet.
Displaced residents were asked to report to the Red Cross at 1952 E. McFadden Ave in Santa Ana to possibly be relocated.
Published at Wed, 12 Feb 2020 12:00:37 +0000