Passenger in Prius Opens Fire at Officers During High-Speed LA Freeway Chase
Passenger in Prius Opens Fire at Officers During High-Speed LA Freeway Chase
What to Know
A pursuit that began in the Downey area ended in Vernon after a rolling shootout on Los Angeles freeways

The passenger leaned from a window, firing at pursuing officers

The chase ended with one person in custody after the driver stopped on a Vernon street
A passenger leaned out the side window of a car and opened fire on officers and deputies during a high-speed pursuit Friday afternoon on freeways in southeastern Los Angeles County.
Innocent People Caught in Dangerous Pursuit Shootout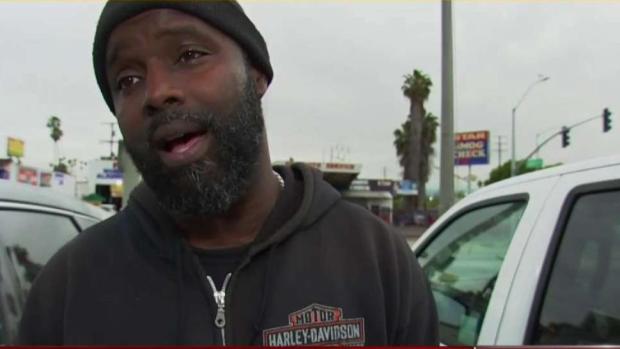 The passenger, identified as Dylan Andres Lindsey of Torrance on Saturday by the LA County Sheriff's Department, was a man wanted in the shooting death earlier this week of a Downey convenience store employee. The passenger fired several shots from the Toyota Prius, traveling at high speeds on the busy 710 Freeway.
Lindsey remained hospitalized Saturday after a shootout with police and deputies that followed the chase on a street in the Vernon area, according to the sheriff's department. Lindsey suffered at least two gunshot wounds, one of which is believed to be self-inflicted to the head, the LASD said.
Family of Liquor Store Robbery Victim Speaks Out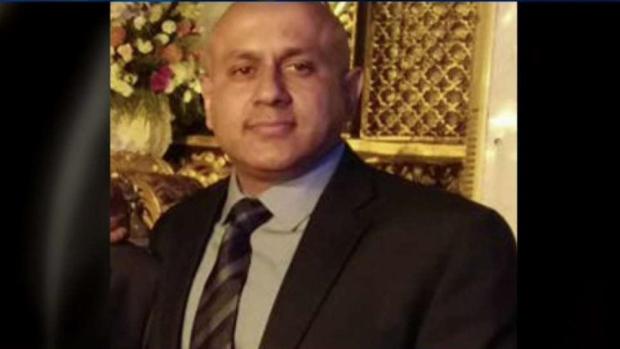 The pursuit began in the Maywood area southeast of downtown Los Angeles. Investigators, acting on a tip, saw a man who matched the description of the convenience store shooter leaving a residence.
At least one Downey Police Department patrol vehicle was struck by gunfire during the chase, investigators said. No law enforcement officers were injured.
The weapon was described as a large-caliber revolver.
According to investigators, four Los Angeles Sheriff's Department deputies and two Downey Police Department officers opened fire during the gun battle.
Innocent people were caught in the chase and one man was grazed by a bullet, but didn't suffer any serious injuries.
A man's truck was struck right next to his baby girl's car seat.
"Her car seat is here, and the bullet is there," said Jaydee Leroy as he pointed at the hole the bullet made on his truck. "It was scary though man, I'm still shooken up."
The chase came to a dramatic end near Downey Road and Bandini Boulevard. After the pursuit driver stopped at a red light behind a big rig in Vernon, officers and deputies returned fire and blasted out the rear window of the Prius.
Other drivers stopped on Bandini Boulevard said they had no idea what was happening. One bystander was grazed by a round, according to the sheriff's department.
"It was very scary," a driver told NBC4. "People were shooting around me. I didn't know what was going on."
'He Was Shooting His Gun': Woman Records Gunshots as Pursuit Shootout Passes Her Car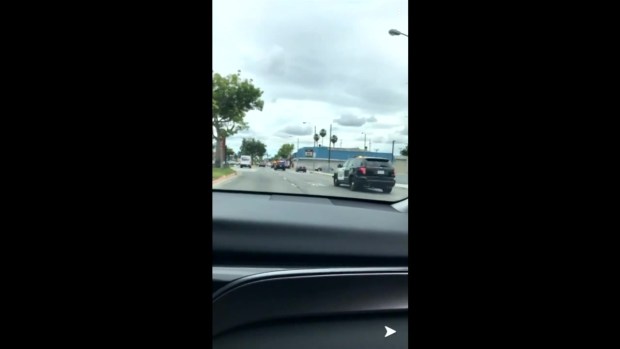 After getting out of the car, the driver, identified as 37-year-old Alison Hart, appeared to have blood on her shirt as she walked with her hands raised over her head toward law enforcement officers and surrendered. The sheriff's department said late Friday it could not provide details about her relationship to the shooter.
Hart was arrested and booked for multiple charges, including attempted murder of a peace officer and felony evading, the LASD said. She is being held on $2.1 million bail and has a pending court date of Tuesday, May 13, 2019.
South Bay Home Raided in Pursuit Shootout Investigation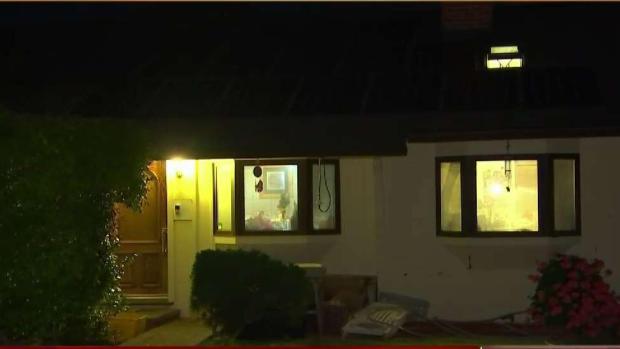 A search of the license plate number of the Prius the woman was driving, an address was traced to a home in the South Bay area.
Downey detectives were seen going in and out of a house in the Hollywood Riviera neighborhood of Redondo Beach.
Intense Moments of Chase as Passenger Fires at Officers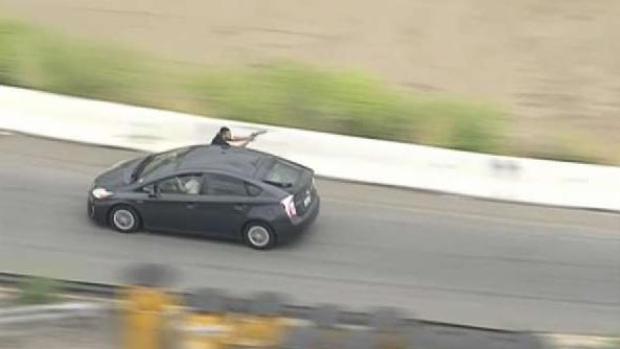 Neighbors are in disbelief of the occured and say they see the grey Prius all the time. Several people identified the woman driver as their neighbor.
"I've known her since she was a little kid," said neighbor Doug Holker. "I just think she got wrapped up with the wrong people."
Neighbors say police activity at this house is frequent, but no one recognized the passenger riding the car with the woman.
"Hopefully this will be a changing point in her life," Holker said. "She'll see the light."
After the woman driver got off the car, the passenger appeared to be motionless in the car as officers remained behind patrol SUVs with their guns drawn.
After about 45 minutes with no response from the man, two armored SWAT vehicles pulled in front of and alongside the Prius to check on the passenger. Deputies used a robot to see inside the car before a police dog was deployed into the driver's side door.
Deputies in SWAT gear then pulled the passenger out of the car.
He was transported in an ambulance to a hospital around 5 p.m. Details about his condition were not immediately available.
The passenger is believed to be the man wanted in connection with the slaying of a co-owner of a Downey liquor store earlier this week, according to Downey police. Surveillance video showed the man with close cropped hair and wearing glasses as he pulled a gun on Gurpreet Singh, 44, inside ASL Liquor and Market in the 8500 block of Paramount Boulevard about 10:15 p.m. Tuesday, Downey police said.
"This is one that you're not going to let go," said Lt. Derrick Alfred form Los Angeles Sheriff's Department Homicide Bureau about the passenger. "He has to be stopped, he's an immediate danger."
In the hours after Singh's death, tearful customers arrived at the store to remember the man many had come to know as a friend. They described him as a kind-hearted person who was nice to everyone who walked in his store.
Pursuit Passenger Exchanges Gunfire During Chase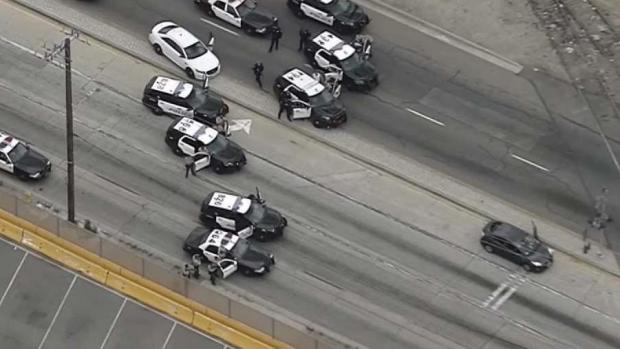 Detectives will conduct interviews all weekend to sort throught the murder case.
Published at Sun, 12 May 2019 00:04:00 +0000